Kelly Clarkson's Jane Austen Ring Will Remain in the UK
Kelly Clarkson won't be able to take possession of a historic ring she purchased at a British auction! She bought the gold and turquoise ring, which once belonged to late British writer Jane Austen, last year for nearly $245K In doing so, she outbid a British museum, which already owns two pieces of jewelry that belonged to Jane!
Well, Kelly was barred from taking the ring out of the U.K. because it was considered to be a national treasure, and the museum was given a chance to raise the money buy it back! It'll go on display this December and Kelly has been invited to come back and see the ring anytime!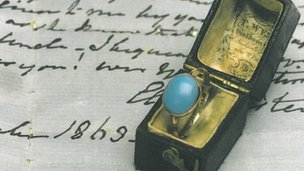 Groups: